Zummy: a Green fashion
idea by two women for all women
The birth of ZUMMY
It's Summer, 2019, when Gaia Novello, overcoming a lifetime of water phobia, immerses herself for the first time, in an exotic sea. What she sees underwater - teeming flora and fauna, dazzling colours, glinting fish, the luminosity of the seabed - leaves her speechless and fills her with totally new emotions. On resurfacing, Gaia makes a promise: to quickly turn that inspiration into fabulous textures for clothing and accessories, so that all women like her can bring to their lives the joy of that incredible vision. When she tells her daughter, Gloria De Lazzari, about all this, the girl adds an important dimension to the project: the new brand will also have an ethical agenda and protect the magical undersea eco-system and other natural environments unfortunately risking extinction. ZUMMY was set up a few months later with this dual purpose, ethical and aesthetic, its name alluding to our desire to get up very close and lovingly to nature, to celebrate and protect it.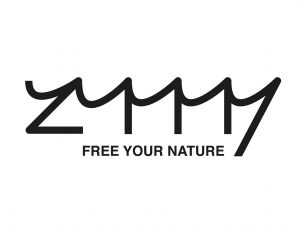 The name, ZUMMY
ZUMMY means a "CONSCIOUS ZOOM" into the beauty of every Nature's detail, that turns into art of painting, thanks to the collaboration with local illustrators. These pieces of art become fashion then and the art of painting becomes sartorial art, with all the knowledge that belongs to the Venetian artisans.
Zummy is for
YOU


if you also want:
Feel free to express your personality and character
Do you feel as elegant as a peacock with a long blue tail? Or sweet like a small ocher-toned lemur? Or perhaps femme fatale like the look of the green iguana? Or again, graceful like a jellyfish floating in the ocean? Whatever your feeling, choose your nature and wear it with courage! FREE YOUR NATURE!
Give your support to the Planet with conscious choices
At Zummy we choose organic or recycled materials, grown or obtained and then processed according to stringent international standards for protecting the environment in business conduct. Choosing certified materials also means opting for fashion that is free of harmful substances and respectful of people involved along the supply chains.
Stop wasting money on disposable fashion
Choosing Zummy means focusing on the quality of the materials, comfortable and refined, durable and at the same time easy to care. You may have thought that it is more convenient to buy clothes for just a few euros, but when you sum it up you will notice that together with those clothes you will also throw away the money with which you bought them, clearly remaining without a garment in the end!
Be confident in the product you purchase and feel supported
Our team is always at your disposal to answer your questions about the product and to help you choose the item you like best. Ours is an online shop, but behind the project there are women like you, who want to be able to count on quality garments, easy to manage, functional, but at the same time with character! You can call us or write to us via WhatsApp or email.
Feel free to wear what you like in your size
You step in, take a look, fall in love with a garment, but then discover that brand produces few sizes and not yours. And so, broken hearted, love ends before it even begins. Did it happen to us only? At Zummy we are committed to comfortable fashion for sizes from 40 to 50-52: if one of these is missing it will only be because someone has already bought it!
The principles that lead us
Sustainability in our heart
At Zummy sustainability is not just a word: it's a daily commitment, a constant belief that takes shape in every single detail.
A zoom on nature that turns into
art
From the choice of the topic and the shot, then it's time for the creation of the paintings. Zummy arises from the collaboration with two local illustrators, that originates a unique and instinctual art, full of life, energy and color, thanks to their knowledgeable painting technique. Zummy's products are truly pieces of art to wear.